ACHEMA 2022

Meet us at the world forum for the process industries
Plant downtimes and unplanned maintenance are among the greatest challenges in the chemical industry. Networking your field devices offers considerable potential for improving plant performance. #empowerthefield – the
Industry 4.0 program of Endress+Hauser – takes your digitalization project to the next level.

Meet us at the ACHEMA at stand C27 in hall 11.1 and discover our product highlights, solution packages and services. Find out more about the Industry 4.0 program of Endress+Hauser, our solutions in advanced analytics and our testing and verification concept.
Benefits
Field-proven solution packages for the start of your Industry 4.0 project

In-line analysis technology for solids, liquids and gases

Heartbeat Technology with integrated diagnostic, verification and monitoring functions
#empowerthefield. The Industry 4.0 program.
Smart measuring devices collect data from the field. However, 97 percent of this data remains unused. But data is the fuel that powers Industry 4.0! #empowerthefield, the Industry 4.0 program of Endress+Hauser., enables plant operators to unlock the potential of this data. Our cloud-based Netilion IIoT ecosystem makes it easy to start your digitalization project. In addition, our field-proven solutions packages create a digital twin of your installed base and makes it available on mobile devices. These solutions monitor device status and enable predictive maintenance.
From lab to process: Raman analyzers offer impressive optical measurement
Our high-performance optical analytical devices enable you to reliably apply your analysis technology from lab to process. The laser-based analysis technology based on Endress+Hauser's Raman spectroscopy provides accurate analytical data of chemical compositions in real-time. Our Raman analyzers and probes for the chemical and life sciences industry are optimized for solids, liquids and gases and deliver a high performance both in process environments and the laboratory. Our global network of Raman service engineers will take care of maintenance and technical support for you.
Heartbeat Technology – always on the pulse of the measurement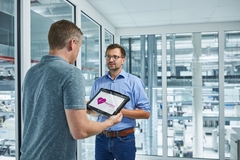 Smart instrumentation that monitors itself around the clock: This is what Heartbeat Technology, the diagnostic and testing concept from Endress+Hauser, offers. Integrated diagnostics, verification and monitoring functions supply extensive sensor and process data, enabling standardized diagnostic messages with clear instructions. Maintenance of these measuring devices can be planned predictively with no additional effort. Moreover, automatically generated test protocols relieve plant operators of documentation work. Heartbeat Technology reduces your maintenance costs to a minimum.
The new generation of 80 GHz radar sensors
The new level transmitters of the Micropilot product family for liquids and bulk solids can take on any challenge. Thanks to optimized evaluation algorithms, the 80 GHz radar sensors provide reliable measurement results with no signal loss even in hard-to-reach measuring points, dusty environments and extreme process temperatures. In addition to the proven Profibus and HART interfaces, a new Ethernet-APL interface provides even easier device access with minimal installation effort. The compact device with a single-chamber enclosure also occupies minimal space.
Connect your pressure measurement to the future.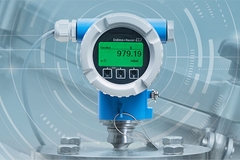 With the new pressure and differential pressure transmitters Cerabar and Deltabar, you can look to the future with confidence. The redesigned high-end measuring devices are perfect for Industry 4.0. Heartbeat Technology ensures documented verification and forms the basis for predictive maintenance. The Bluetooth® interface makes it easy to configure and verify measuring devices using the SmartBlue app. These devices can even cope very well with extreme application conditions. Moreover, the intelligent functions and SIL ratings, which are unique on the market, ensure maximum process reliability.
Memosens 2.0 – simple, safe, connected.
Memosens technology for liquid analysis has already proven its worth millions of times – with the digitization of measured values directly in the sensor head, contactless digital signal transmission and with the diagnosis and storage of all relevant sensor data directly in the sensor. The new Memosens 2.0 sensor generation now also meets the demands of Industry 4.0. Additional process data and diagnostics information provide accurate information regarding current sensor status and future maintenance requirements. Memosens 2.0 sensors can be seamlessly integrated into existing systems using plug and play.
Completely traceable calibrations for maximum safety
Combining high product quality with compliance with strict legal provisions is one of the top priorities in the chemical and life sciences industry. Endress+Hauser's calibration service – which is accredited in accordance with ISO 17025 – checks, calibrates and adjusts measuring devices from all manufacturers, either at our laboratory or directly at your plant. Our calibrations are performed on state-of-the-art calibration rigs according to uniform standards. We calculate optimal calibration intervals for you, thereby helping you to optimize your cost/risk ratio.
New sensor technology with the world's first in-line self-calibration
The new iTHERM TrustSens enables continuous, traceable monitoring thanks to its fully automated in-line self-calibration function without process interruption. This unique sensor technology is a milestone in temperature measurement technology and offers added value, particularly to those users who require continuous monitoring of sterilization processes. In addition to its high level of process reliability and increased plant availability, the iTHERM TrustSens enables high process transparency. Audit-compliant calibration data is available for complete documentation at all times.
Downloads
Endress+Hauser_Pressemitteilung_ACHEMA_2022.pdf

| | |
| --- | --- |
| Language: | German |
| File size: | 313.7 KB |
| File name: | EH_Pressemitteilung_ACHEMA_2022.pdf |