Meet us at IFAT
Water is our life
Water is a vital resource that demands responsible use. As your partner when it comes to clean water treatment, we support you in controlling and monitoring your processes. We are at home in all areas of the industry - from drinking water safety and water pollution control, to industrial water treatment. Break new ground with us and learn more about our solutions in the field of networked and digitalized water management: Water 4.0.

Visit our booth and discover the "smart" way to analyze water.
Benefits
Individual solutions for every challenge in water and wastewater management - digital, safe and efficient

Innovative measurement technologies for monitoring and optimizing water processes

Netilion IIoT ecosystem for connected, digitalized and automated water management
Water protection is life protection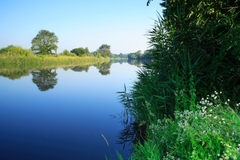 Water is the elixir of life. It must be available in sufficient quantities and at the same time be clean. Complex technologies are required for its treatment. Endress+Hauser supplies products, services and solutions for controlling and monitoring machine and plant technology in the water and wastewater industry. Digital, cloud-based solutions for monitoring decentralized measuring points round out the portfolio.
Water 4.0: The smart way to analyze water
Stop guessing and start measuring water quality the "smart" way. Endress+Hauser has developed a secure, cloud-based IIoT ecosystem for connected, digitized and automated water management. Intelligent measuring devices provide the data basis for "Water 4.0". Discover how you can analyze water and wastewater quality or easily monitor water cycles with the help of our smart devices, complete solutions and the Netilion IIoT ecosystem.
Reliable level monitoring with Micropilot FWR30
The Micropilot FWR30 is not only the expert for level measurement and inventory management at decentralized measuring points. The world's first battery-powered 80GHz IIoT radar sensor also reliably handles flood monitoring on at rivers and other bodies of water. This compact device can be easily mounted on a bridge or pipeline with a maximum measuring distance of 15 meters. The Micropilot FWR30 measures with an accuracy of ±10 mm.
Robust transmitters for all applications
Our Liquiline transmitters with Heartbeat Technology monitor and control processes in all water and wastewater applications. They measure pH, ORP, conductivity, oxygen, chlorine, turbidity, nitrate and many other parameters. The intuitive operating concept facilitates simple commissioning and handling. The field device can also be flexibly expanded. Thanks to the integrated web server, Liquiline family products can also be operated remotely using a smartphone. It couldn't be simpler.
Impressively accurate: the Prosonic Flow W 400 flowmeter
The Proline Prosonic Flow W 400 ultrasonic flowmeter is a convincing solution for monitoring drinking water, wastewater and service water in public utility plants. It can be easily mounted on the outer wall of the pipeline without interrupting the process. Heartbeat Technology increases operational reliability with its monitoring, diagnostic and verification functions. Thanks to the integrated web server, the Prosonic Flow can be easily operated on site.
We are looking forward to your visit in hall C1, booth 451/550!