Endress+Hauser plant Übernahme von Kaiser Optical Systems

Raman-Technologie soll das Analyse-Angebot stärken
Der Schweizer Spezialist für Prozessmesstechnik hat eine entsprechende Vereinbarung mit dem Mutterkonzern Rockwell Collins geschlossen. Die Transaktion soll in den nächsten Monaten abgeschlossen werden.

Kaiser Optical Systems ist weltweit führend auf dem Gebiet spektrografischer Messgeräte und angewandter holografischer Verfahren. Hauptprodukte sind unter anderem Raman-Sensoren und -Geräte, innovative holografische Komponenten für Spektroskopie, Telekommunikation, Astronomie und Hochgeschwindigkeits-Wissenschaften sowie Anzeigesysteme für die Luftfahrt. Das Unternehmen hat seinen Hauptsitz in Ann Arbor/Michigan, wo auch die Produktion angesiedelt ist.
Angebot an hochmoderner Analysetechnik erweitern
"Mit der Übernahme erweitern wir unser Angebot an hochmoderner Analysetechnik und stärken unsere Kompetenz im Bereich der optischen Messtechnik", sagte Klaus Endress, Chef der Endress+Hauser Gruppe. Kelly Ortberg, CEO von Rockwell Collins, erklärte: "Die Transaktion bietet uns Mittel und Wissen, das besser zu den Zielmärkten des Unternehmens passt. Das hilft, das Kerngeschäft – Kommunikationssysteme und Elektronik für die zivile und militärische Luftfahrt – im Fokus zu behalten und zu stärken."
Innovative Technologie mit vielen Möglichkeiten
"Die Raman-Spektroskopie erweitert das Angebot für Kunden in unseren Schlüsselindustrien. Sie ist auf vielen Zukunftsfeldern von Bedeutung, etwa in der Energieversorgung, der Biotechnologie, oder in Labor-Anwendungen – ein wichtiger und wachsender Markt." Kunden könnten ihre Prozesse verbessern und die Kosten senken. "Zudem sind die Möglichkeiten durch Einsatz der Raman-Technologie noch lange nicht ausgeschöpft."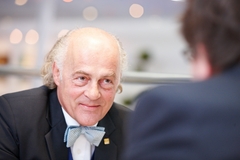 Rockwell Collins
Rockwell Collins Inc. (NYSE: COL) ist ein Pionier im Bereich von Entwicklung und Einsatz innovativer Kommunikations- und Luftfahrtelektronik-Lösungen sowohl für kommerzielle als auch staatliche Anwendungen. Das Know-how umfasst Cockpit-Avionik, Kabinenelektronik, Einsatzkommunikation, Informationsmanagement, Simulation und Schulungen und stützt sich auf rund 19.000 Beschäftigte sowie ein globales Service- und Supportnetzwerk, das 27 Länder umspannt.
Related offering
Überprüfung der Durchflussmessstellen auf Kläranlagen

Wir unterstützt Sie gemäß EÜV/EigÜVO/EKVO/SüwVO nach DIN 19559. Profitieren Sie von unserem Produktportfolio, unserem Applikationswissen und Erfahrung als Hersteller über sämtliche messtechnische Fragestellungen auf Kläranlagen
Simple products

Easy to select, install and operate
Technical excellence
Simplicity
Standard products

Reliable, robust and low-maintenance
Technical excellence
Simplicity
High-end products

Highly functional and convenient
Technical excellence
Simplicity
Specialized products

Designed for demanding applications
Technical excellence
Simplicity
FLEX selections
Technical excellence
Simplicity

Fundamental selection

Meet your basic measurement needs

Technical excellence

Simplicity

Lean selection

Handle your core processes easily

Technical excellence

Simplicity

Extended selection

Optimize your processes with innovative technologies

Technical excellence

Simplicity

Xpert selection

Master your most challenging applications

Technical excellence

Simplicity
Success stories
Boiler water monitoring made easy

With the SWAS Compact Panel, the continuous monitoring of quality parameters such as pH and conductivity in cheese production can be automated and simplified.

The all-round carefree panel

Water Analysis Panels make continuous monitoring of drinking water easy at the water treatment plant in Frasnacht, Switzerland.
Die Produkthighlights für 2021


Die neue Highlights 2021 Broschüre enthält eine Übersicht unserer Neuprodukte, Dienstleistungen und Automatisierungslösungen für die Prozessautomatisierung