Neue hygienische Wechselarmatur CPA875
Safety by design
Wo Sensoren zyklisch gereinigt werden müssen, empfiehlt sich der Einsatz von Prozess-Wechselarmaturen. Die Armatur Cleanfit CPA875 zeichnet sich durch technische Details wie eine Einfahr- und Endlagensicherung, eine EHEDG-zertifizierte Reinigbarkeit, Bakteriendichtheit und eine Oberflächenrauigkeit von Ra<0,76 bzw. 0,38 μm aus. Das EHEDG-Zertifikat für Reinigbarkeit beschränkt sich nicht nur auf den Prozessanschluss, sondern umfasst selbstverständlich auch die Spülkammer.
Konstruktion verhindert Kontamination
Durch den Reinigungsprozess des Sensors darf das Produkt nicht kontaminiert werden. Dementsprechend darf die Servicekammer vor dem Wiedereinfahren des Sensors in den Prozess nicht verunreinigt sein. Diese wurde so gestaltet, dass flüssige Medien frei und restlos abfließen können. Die Anordnung des Zu- und Ablaufs sowie die Strömungsführung zusammen mit einer Oberflächenrauigkeit von <0,78/0,38 μm führen dazu, dass auch feste Anhaftungen abgelöst und entfernt werden. Eine dritte Rastposition der Sensorführung macht die zusätzliche Reinigung der Dichtfläche der Prozessdichtung möglich.
Bewährtes weiterentwickelt
Eine Besonderheit der neuen Wechselarmatur im Vergleich zu bisherigen Armaturen ist die spaltfreie Prozessdichtung. Dieses Prinzip wird bereits seit Jahren im Rohrleitungsbau für hygienische Prozesse verwendet. Hierbei wird eine spezielle Formdichtung von beiden Seiten so gefasst, dass, anders als bei O-Ringen, keine Spalten entstehen können.
Erfüllung höchster hygienischer Ansprüche durch Doppelservicekammer
Um höchsten hygienischen Anforderungen gerecht zu werden, wurde für die Ausführung der Doppelservicekammer ein bewährtes Prinzip aus dem Bereich hochsteriler Anwendungen übernommen. Die Konstruktion dieser Version mit dynamischen Dichtungen nach dem Spritzenprinzip bewirkt, dass beim Verfahren der Armatur in die Messposition zu keinem Zeitpunkt nichtsterile Bereiche in bereits sterile Bereiche gelangen und damit zu einer Kontamination führen.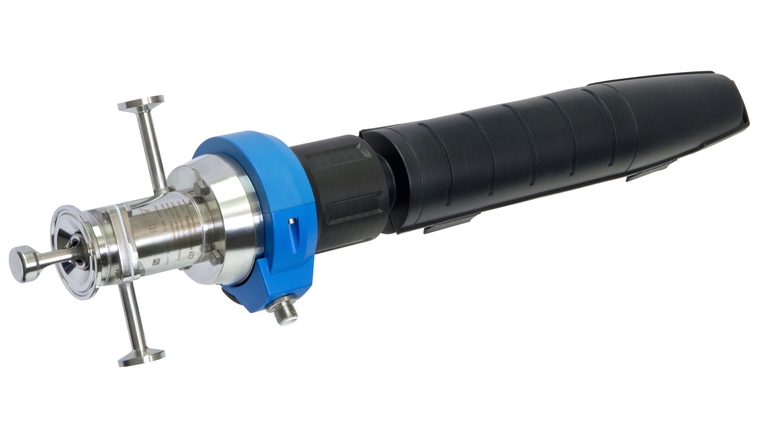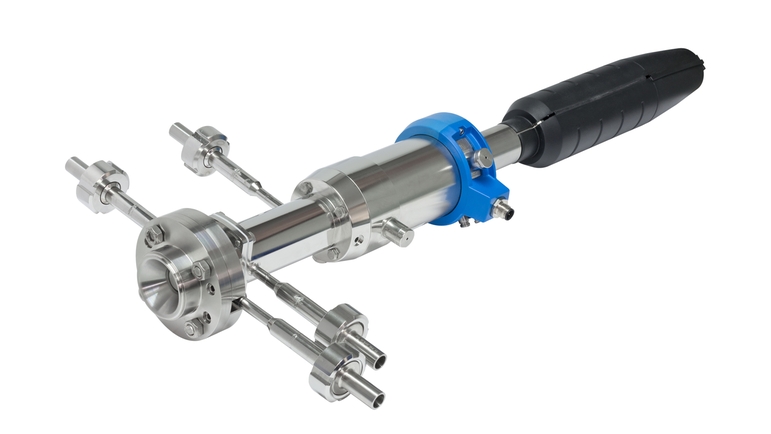 Related offering

Simple products

Easy to select, install and operate
Technical excellence
Simplicity
Standard products

Reliable, robust and low-maintenance
Technical excellence
Simplicity
High-end products

Highly functional and convenient
Technical excellence
Simplicity
Specialized products

Designed for demanding applications
Technical excellence
Simplicity
FLEX selections
Technical excellence
Simplicity

Fundamental selection

Meet your basic measurement needs

Technical excellence

Simplicity

Lean selection

Handle your core processes easily

Technical excellence

Simplicity

Extended selection

Optimize your processes with innovative technologies

Technical excellence

Simplicity

Xpert selection

Master your most challenging applications

Technical excellence

Simplicity
Success stories
Boiler water monitoring made easy

With the SWAS Compact Panel, the continuous monitoring of quality parameters such as pH and conductivity in cheese production can be automated and simplified.

Advanced bioprocess control

From time consuming sample analysis to real-time monitoring of critical parameters in fermentation processes thanks to complete solutions from hardware to development and analytical services.

Compliance made easy

The automated phosphate monitoring with Liquiline System CA80PH helps the food company Pasfrost ensure the compliance with the strict limit values for its industrial wastewater.
Media library

Find publications, images, videos and other resources available for online view and download

Die Endress+Hauser Newsletter

Sie möchten über neue Produkte, Branchen- und Technik-News, aktuelle Ereignisse, Messen und Seminare regelmäßig informiert werden, um dann direkt im Internet Näheres zu erfahren? Dann abonnieren einfach die für Sie interessanten Newsletter.

Endress+Hauser Conducta erhält European Business Award

Eine der angesehensten Unternehmensauszeichnungen Europas geht in diesem Jahr an Endress+Hauser Conducta. Der Spezialist für Flüssigkeitsanalyse erhält den "Award for Environmental and Corporate Sustainability 2016/17".