Stabile Messung für stabile Prozesse

Ceragel CPS71D – der pH-Sensor für Life Science Anwendungen
Endress+Hauser hat einen seiner beliebtesten pH-Sensoren aktualisiert und mit einem neuen Referenzsystem ausgestattet. Verbesserte Messwertstabilität sowie Widerstandsfähigkeit und eine Verlängerung der Lebensdauer sind die Vorzüge.

Neues Referenzsystem
Das neue Referenzsystem stärkt die Stabilität des Sensors. Fließende Medien oder niedrige Leitfähigkeit verursachen nun keine schwankenden Messwerte mehr, was eine zuverlässige Datenbasis für die Prozesskontrolle gewährleistet. Der Sensor widersteht sowohl starken Säuren als auch Laugen. Die erhöhte CIP/SIP-Beständigkeit und Autoklavierbarkeit machen Ceragel CPS71D zu einer vernünftigen Wahl für alle hygienischen und sterilen Anwendungen.
Veganer Sensor
Das in der Innenableitung enthaltene Glycerin ist ausschließlich pflanzlicher Herkunft. Auch die verwendeten Klebstoffe und Füllstoffe sind frei von tierischem Material. Der Sensor ist somit komplett vegan.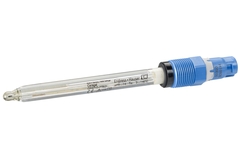 Related offering
Safe wastewater effluent monitoring in Chemicals

Discover our solutions for safe monitoring of wastewater quality so that you can optimize wastewater treatment in your chemical plant and safely comply with the prescribed limits when discharging.
Simple products

Easy to select, install and operate
Technical excellence
Simplicity
Standard products

Reliable, robust and low-maintenance
Technical excellence
Simplicity
High-end products

Highly functional and convenient
Technical excellence
Simplicity
Specialized products

Designed for demanding applications
Technical excellence
Simplicity
FLEX selections
Technical excellence
Simplicity

Fundamental selection

Meet your basic measurement needs

Technical excellence

Simplicity

Lean selection

Handle your core processes easily

Technical excellence

Simplicity

Extended selection

Optimize your processes with innovative technologies

Technical excellence

Simplicity

Xpert selection

Master your most challenging applications

Technical excellence

Simplicity
Success stories
Ziel erreicht - bei Wander AG

Die Firma Wander AG geht auch beim Abwasser auf Nummer Sicher. Kontinuierliche Abwasserkontrolle erhöht Sicherheit und Transparenz
Endress+Hauser Conducta erhält European Business Award

Eine der angesehensten Unternehmensauszeichnungen Europas geht in diesem Jahr an Endress+Hauser Conducta. Der Spezialist für Flüssigkeitsanalyse erhält den "Award for Environmental and Corporate Sustainability 2016/17".

Sichere Trübungsmessung im Prozess- und Trinkwasser

Die Trübung ist der wichtigste kontinuierlich gemessene Qualitätsparameter in der Wasseraufbereitung. Mit Memosens-Technologie und hygienischem Design liefert der Turbimax CUS52D verlässliche Laborpräzision in allen Lagen.