Die heiße Formel - Innovation: Die Lösung zur Temperaturüberwachung
Sparen Sie Kosten und Zeit mit dem Prozessumformer
Temperaturüberwachung ist immens wichtig in sicherheittechnischen Anlagen. Reduzieren Sie Ihre Kosten und den Zeitaufwand mit dem Prozessumformer RMA42, der die Programmierung mit einer Steuerung ersetzt.

Anwendung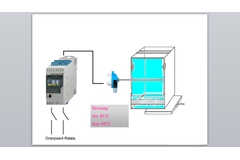 In Lagertanks ist es häufig notwendig, die Temperatur zu überwachen. Gründe können sein, dass die zu lagernden Flüssigkeiten einen bestimmten Temperaturgrenzwert nicht überschreiten dürfen, weil sonst Qualitätsmängel auftreten können.
Unsere Lösung
Der einfach programmierbare Prozessmessumformer RMA42 bietet die Lösung. Das Gerät misst die Temperatur über die direkt angeschlossenen PT100 und gibt diese galvanisch getrennt an übergeordnete Systeme weiter.
Der RMA42 hat zwei Grenzwerte mit frei einstellbarer Hysterese und Verzögerungszeit. Mit einem Grenzwert lässt sich somit optimal die Temperatur zwischen zwei Werten regeln. Mit dem zweiten kann z.B. das Überschreiten einer kritischen Temperatur gemeldet werden.
Open colletor Ausgang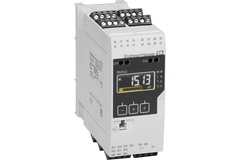 Zusätzlich ist für systematische Fehler, wie z.B. ein Leitungsbruch oder Fehler im Gerät, ein Open collector Ausgang vorhanden. Wird der Messwert zusätzlich in einer übergeordneten Einheit benötigt, kann das Messsignal ebenfalls als 4..20 mA Signal weitergegeben werden. Der RMA42 ist 1- oder 2-kanalig verfügbar, so dass bis zu zwei Lagertanks mit einem RMA42 überwacht werden können.
Related offering
Überprüfung der Durchflussmessstellen auf Kläranlagen

Wir unterstützt Sie gemäß EÜV/EigÜVO/EKVO/SüwVO nach DIN 19559. Profitieren Sie von unserem Produktportfolio, unserem Applikationswissen und Erfahrung als Hersteller über sämtliche messtechnische Fragestellungen auf Kläranlagen
Simple products

Easy to select, install and operate
Technical excellence
Simplicity
Standard products

Reliable, robust and low-maintenance
Technical excellence
Simplicity
High-end products

Highly functional and convenient
Technical excellence
Simplicity
Specialized products

Designed for demanding applications
Technical excellence
Simplicity
FLEX selections
Technical excellence
Simplicity

Fundamental selection

Meet your basic measurement needs

Technical excellence

Simplicity

Lean selection

Handle your core processes easily

Technical excellence

Simplicity

Extended selection

Optimize your processes with innovative technologies

Technical excellence

Simplicity

Xpert selection

Master your most challenging applications

Technical excellence

Simplicity
Success stories
Semi-batch polymerization

Monitoring and control of a semi-batch polymerization with Raman analyzer, powered by Kaiser Raman technology

Advanced bioprocess control

From time consuming sample analysis to real-time monitoring of critical parameters in fermentation processes thanks to complete solutions from hardware to development and analytical services.
E+H=°C: Innovationen/Neuheiten

Über 3400 lebende Patente und Patentanmeldungen zeigen die Innovationskraft von Endress+Hauser. Eigenentwickelte Temperatursensoren bieten ein schnelles und genaues Messsignal. Ein Höchstmaß an Sicherheit für ihre Prozesse und die Umwelt.

Die Produkthighlights für 2021


Die neue Highlights 2021 Broschüre enthält eine Übersicht unserer Neuprodukte, Dienstleistungen und Automatisierungslösungen für die Prozessautomatisierung