iTHERM® TM4xx Thermometer – führend durch Innovation

Immer die optimale Lösung für hygienische und aseptische Applikationen!
Die innovativen iTHERM® TM4xx Thermometer der neuen, modularen Hygienelinie erfüllen die Anforderungen der Lebensmittel- und Life Sciences-Branchen und entsprechen den höchsten Qualitätsstandards.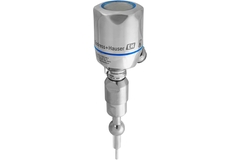 Die iTHERM® TM4xx Linie bietet beispiellose Auswahlmöglichkeiten innerhalb klar segmentierter Standardthermometer. Nur 4 Bestellwurzeln (2 metrisch und 2 zöllig*) sind ausreichend, um die Anforderungen der Zielindustrien weltweit zu erfüllen.
Technische Neuerungen
iTHERM® QuickSens und StrongSens – die schnellsten und stabilsten Messeinsätze weltweit!

iTHERM® QuickNeck – Neues, teilbares Halsrohr mit Schnellverschluss für einen werkzeuglosen Ausbau zur Rekalibrierung.

iTHERM® TA30R – Neuer Edelstahl-Anschlusskopf mit Schutzklasse IP69K und optimalem Zugang zu den Anschlussklemmen.
Optimierungspotenziale ausschöpfen
Alle Innovationen zielen darauf ab, bisher ungenutzte Optimierungspotenziale auszuschöpfen. Eine konsequente Anwendung führt zu entscheidender Reduzierung von Wartungskosten und Anlagenstillständen sowie zu Verbesserungen der Produktqualität, Prozesseffizienz und -Sicherheit.

03.12.2019 - 06.12.2019

Using the latest tools and specification, you will understand the network up to the protocol details, supported by hands on tasks.