Weniger Druckverluste, mehr Kosteneffizienz.
Das nennen wir Druckmesstechnik.
2002: Staudrucksonden und Differenzdruck-Messumformer erzeugen wesentlich geringere Druckverluste als z. B. Wirbeldurchflusszähler oder Blenden. Zusätzlich können durch einfache und schnelle Planung sowie weniger Schnittstellen in der Beschaffung Einsparungen realisiert werden.
Benefits
Geringere Druckverlustwerte.

Sehr kurze Ein- und Auslaufstrecken.

Geringe Kosten für die Installation, da ein Einbauen ohne aufwändiges Auftrennen der Leitungen möglich ist.

Einfache Reinigung, da die Sonden einfach aus der Halterung gezogen werden können.
Nachrechnen lohnt sich
Soll der Durchfluss von Dampf bestimmt werden, denkt der erfahrene Anlagenbetreiber zuerst an Blenden oder Wirbeldurchflussmessgeräte. Theoretisch eine gute Lösung, praktisch haben beide Verfahren eins gemeinsam: Sie erzeugen unerwünschte Energieverluste. Entscheidend sind präzise Messungen mit minimalem Druckverlust. Für Dampfmessungen sind außerdem robuste Verfahren notwendig. Darum setzen immer mehr Betreiber auf Staudrucksonden und Differenzdruck-Messumformer.

Druckverlustwerte verringern
Die Staudrucksonden haben mit Abstand geringere Druckverlustwerte als Wirbeldurchflusszähler oder Blenden. Schon wenige Millibar Druckverlust können auf ein Jahr gesehen sehr viel Geld vernichten. Positiv ausgedrückt heißt das, dass sich mit einem klug ausgewählten Durchflussmesssystem die Investitionen schnell amortisieren.
Kompaktausführung
Jede Deltatop-Messstelle ist mit einem Wirkdruckgeber, Ventilblock und Kondensatgefäß (bei Dampf) sowie dem Messumformer Deltabar S ausgestattet - fertig für die Inbetriebnahme. Die Vorzüge dieser Variante liegen in der einfachen Beschaffung bei nur einem Ansprechpartner, in einem voreingestellten Differenzdrucktransmitter, der Funktion ohne Wirkdruckleitungen und dem Einbau mit Flansch- oder Rohrverschraubung. Die Länge ist der Rohrleitung angepasst und die Sonde wird entsprechend einer von Endress+Hauser durchgeführten Festigkeitsberechnung ausgeführt.
Getrenntausführung
Diese Ausführung ist ähnlich der Kompaktvariante, aber Wirkdruckgeber und Messumformer sind räumlich getrennt und durch eine Wirkdruckleitung verbunden. Deltatop ist eine modular aufgebaute Messstelle, bestehend aus Wirkdruckgeber, Absperrventilen und optimalen Kondensatgefäßen.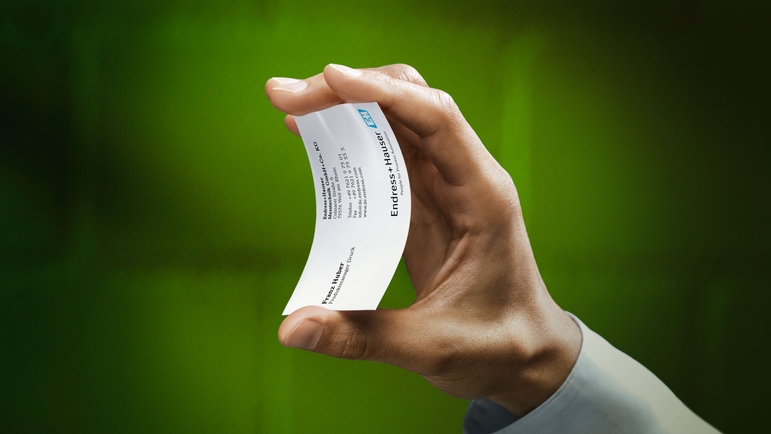 Related offering

Simple products

Easy to select, install and operate
Technical excellence
Simplicity
Standard products

Reliable, robust and low-maintenance
Technical excellence
Simplicity
High-end products

Highly functional and convenient
Technical excellence
Simplicity
Specialized products

Designed for demanding applications
Technical excellence
Simplicity
FLEX selections
Technical excellence
Simplicity

Fundamental selection

Meet your basic measurement needs

Technical excellence

Simplicity

Lean selection

Handle your core processes easily

Technical excellence

Simplicity

Extended selection

Optimize your processes with innovative technologies

Technical excellence

Simplicity

Xpert selection

Master your most challenging applications

Technical excellence

Simplicity
Success stories
Sichere Druckluftversorgung

Endress+Hauser (Schweiz) AG unterstützt Kunden bei der Optimierung der Verfügbarkeit und Leistungsfähigkeit ihrer Druckluftanlagen.