Die heiße Formel - Innovation: Sizing Thermowell - Auf dem richtigen Weg
Hilfe bei der Auswahl von Thermometerschutzrohren
Das bewährte Auswahl- und Auslegungstool Applicator von Endress+Hauser wurde um eine weitere praxistaugliche Komponente ergänzt: Sicheres und schnelles Auslegen von Thermometerschutzrohren mit Sizing Thermowell.

Benefits
Hohe Anlagensicherheit - Schutz vor Personen-, Umwelt- und finanzielle Schäden
Warum ist eine Schutzrohrberechnung notwendig?
Aufgabe eines Schutzrohres ist der Schutz vor den Prozessbedingungen, um eine lange Lebensdauer der Thermometer-Sensorik zu gewährleisten. Dabei ist das Schutzrohr unterschiedlichsten Belastungen ausgesetzt. Es handelt sich um mechanische, chemische und thermische Schwing- und Erosions-Belastungen.

Diese haben verschiedenen Auswirkungen:
Sofortiges Versagen des Schutzrohres
Verzögertes Versagen durch Materialermüdung, ausgelöst durch Rissbildung
Ist das Schutzrohr beschädigt, kann Prozessmedium unter hohem Druck und hoher Temperatur austreten und zu Personen-, Umwelt- und zu finanziellen Schäden führen. Eine Schutzrohrberechnung nach den gängigen Berechnungsstandards ermöglicht die sichere Geräteauslegung und ist häufig Grundlage einer Anlagenabnahme durch eine Zertifizierungsstelle. Die Berechnung bezieht die wichtigsten mit ein und führt zu einer höheren Anlagensicherheit.
Der Applicator - Berechnungsmodul für Schutzrohre
Heute werden die Schutzrohr-Abmessungen gezielt an den Prozess angepasst. Als Sicherheitsnachweis, besonders bei abnahmepflichtigen Anlagen, hat die Berechnung der statischen und dynamischen Belastbarkeit von Schutzrohren unter bestimmten Prozessbedingungen in den letzten Jahren an Bedeutung gewonnen.
Das neue Sizing Thermowell berechnet die Belastbarkeit eines Thermometers unter gegebenen Prozessbedingungen und liefert zudem Aussagen zur Verwendbarkeit von ausgewählten Schutzrohren in Temperaturmessstellen.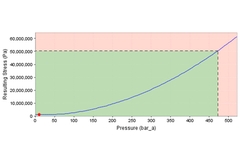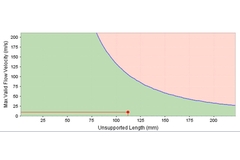 Berechnungsstandards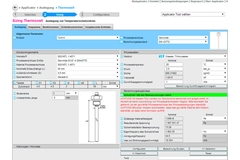 Das ausgewählte Schutzrohr wird im Berechnungsmodul berechnet, das Ergebnis wird über eine Ampel ausgegeben.
Das Modul führt den Kunden einfach, schnell und sicher durch die Berechnung der Schutzrohrfestigkeit und spart dem Anwender Kosten und Zeit beim Auslegen der Messmittel.
Zusätzlich können Sie die Schutzrohrberechnung als Dienstleistung bei Endress+Hauser beauftragen.
Klicken Sie hier direkt zum Applicator >>>
Related offering

Simple products

Easy to select, install and operate
Technical excellence
Simplicity
Standard products

Reliable, robust and low-maintenance
Technical excellence
Simplicity
High-end products

Highly functional and convenient
Technical excellence
Simplicity
Specialized products

Designed for demanding applications
Technical excellence
Simplicity
FLEX selections
Technical excellence
Simplicity

Fundamental selection

Meet your basic measurement needs

Technical excellence

Simplicity

Lean selection

Handle your core processes easily

Technical excellence

Simplicity

Extended selection

Optimize your processes with innovative technologies

Technical excellence

Simplicity

Xpert selection

Master your most challenging applications

Technical excellence

Simplicity
Success stories
Loading solution for tankers

Report on successfully fitting a new tanker loading station with measuring equipment, taking high measurement accuracy, product recognition and reduced maintenance costs into consideration.

Optimize extra heavy/ heavy crude separation

Density profiling system offers precise 3-dimensional density profile of the entire separator - from inlet to outlet. This information enables you to save time and cost in your separation process.
Sichere Trübungsmessung im Prozess- und Trinkwasser

Die Trübung ist der wichtigste kontinuierlich gemessene Qualitätsparameter in der Wasseraufbereitung. Mit Memosens-Technologie und hygienischem Design liefert der Turbimax CUS52D verlässliche Laborpräzision in allen Lagen.