Endress+Hauser Conducta erhält European Business Award
Publication date: 08.02.2017
Die European Business Awards, gesponsert von den Weltunternehmen RSM, UK Trade & Investment, ELITE und PR Newswire sind ein unabhängiges Auszeichnungsprogramm. Bewertet werden die Innovationsfähigkeit, die ethische Ausrichtung, der wirtschaftliche Erfolg und eine nachhaltige Unternehmensausrichtung, die flexibel auf dynamische Marktbedingungen reagiert. Das Programm wurde entwickelt, um unternehmerische Exzellenz, Best Practice und Innovationstärke im Einklang mit den Zielen der Europäischen Gemeinschaft anzuerkennen und zu fördern.
Die Auszeichnungen, die seit 2007 in elf unterschiedlichen Kategorien verliehen werden, beleuchten führende Unternehmen und Organisationen in Europa, die in verschiedenen Disziplinen herausragende Ergebnisse erzielen – von einer umweltgerechten Ausrichtung bis zu einer ausgeprägten Kundenorientierung.
In der hochkarätig besetzten Jury finden sich unter anderem namhafte europäische Politiker sowie erfolgreiche Manager und Unternehmer. So gehört u.a. Karel De Gucht, ehemaliger European Commissioner for Trade, der Jury an. Weiterhin Yves Leterme - ehemaliger Ministerpräsident von Belgien, Emil Constantinescu - ehemaliger Präsident von Rumänien, Arnold Rüütel - ehemaliger Ministerpräsident von Estland, Jose Aznar – ehemaliger Ministerpräsident von Spanien und Petar Stoyanov - ehemaliger Präsident von Bulgarien.
Aber auch erfolgreiche Manager sind Mitglieder der Jury. So Peter Brabeck-Lethmathe - ehemaliger CEO von Nestle, Gilbert Ghostine - Managing Director von Diageo Continental Europe sowie Isidoro Unda – CEO von Atradius. Das EBA-Programm richtet sich an große internationale Unternehmen, Mittelständler und schnell wachsende kleinere Unternehmen aus allen Branchen und Ländern Europas. Mit der Teilnahme an den European Business Awards messen sich Unternehmen mit den besten in Europa.
Endress+Hauser Conducta zählt weltweit zu den führenden Anbietern von Messstellen und Komplettsystemen für die Flüssigkeitsanalyse. Intelligente Lösungen helfen den Kunden aus der Umwelt- und Prozessindustrie ihre Anlagen sicher, zuverlässig, wirtschaftlich und umweltfreundlich zu betreiben. Modernste Produktionsverfahren gewährleisten durchgängig höchste Qualität.
Zahlreiche internationale Auszeichnungen und Preise belegen die Innovationskraft von Endress+Hauser Conducta. Diese stützt sich auf die Kompetenz von weltweit mehr als 800 Mitarbeiterinnen und Mitarbeiter am Hauptsitz in Gerlingen bei Stuttgart sowie an den Standorten Waldheim (Sachsen), Groß-Umstadt (Hessen), Anaheim (Kalifornien, USA) und Suzhou (China).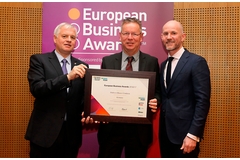 v.l.n.r.: Dr. Warner B. J. Popkes (Chairman/ Sprecher der Geschäftsführung RSM), Stephan-Christian Köhler (Director Human Resources und Company Communication Endress+Hauser Conducta), Adrian Tripp (CEO of the European Business Awards): Stephan-Christian Köhler nimmt für Endress+Hauser Conducta die Auszeichnung " Award for Environmental and Corporate Sustainability 2016/17" entgegen
31.01.2017
Receive the next press releases and news directly in your mailbox. Stay up to date by subscribing to the Endress+Hauser press list.