Endress+Hauser präsentiert neue Durchfluss-Messgerätelinie

Bereit für die digitale Zukunft – neue Features – einfache Anwendung
Publication date: 11.04.2017
Bereit zur Digitalisierung
Die in der NAMUR-Roadmap spezifizierten Eigenschaften von smarten Sensoren zeigen auf, welche Kriterien ein Messgerät erfüllen muss, um "Industrie 4.0-ready" zu sein.
Die neue Proline 300 erfüllt diese Kriterien in jeder Hinsicht: Sie ermöglicht neben der digitalen Anbindung über herkömmliche Feldbusse wie PROFIBUS DP/PA, FOUNDATION Fieldbus, Modbus oder HART/WirelessHART auch Ethernet-basierte Kommunikation via PROFINET, EtherNet/IP und WLAN. Die Multiparametersensoren wie Promass und Promag erzeugen neben den Durchfluss-Messwerten eine ganze Reihe zusätzlicher Prozessparameter und weitreichende Geräte- und Prozessdiagnosedaten.
Höchste Prozess- und Produktsicherheit
Die Integrated Industry Safety Konzepte garantieren Prozess- und Produktsicherheit für spezifische Branchen. So minimiert die Geräteentwicklung nach IEC61508 systematische Fehler und gewährleistet eine sichere und einfache Inbetriebnahme und Wiederholprüfung von Messgeräten in PLT Sicherheitseinrichtungen;
Betriebsbewährungsphasen werden verkürzt (½ statt 1 Jahr) und Software Updates ohne erneute Betriebsbewährung sind möglich. Im gesamten Lebenszyklus werden systematische Fehler vermieden, um SIL-Schutzeinrichtungen effizient und sicher zu planen, in Betrieb zu nehmen, zu prüfen und Instand zu setzen.
Robuste und langzeitstabile Sensorik mit betriebsbewährtem hygienischem Design berücksichtigt die Anforderung in hygienischen Prozessen. Hierzu gehören innovative Dichtungskonzepte mit getesteter Geometrie und den passenden Dichtungsmaterialien, die eine Rekontamination des Mediums z. B. nach Reinigungsprozessen vermeiden. Das hygienische Design ist 3A-konform und durch die EHEDG zertifiziert. Zudem erfüllen die Geräte wichtige Vorgaben für Lebensmittelkontaktmaterialien (VO 1935 und VO 10_2011). So leisten die neuen Messgeräte einen wichtigen Beitrag zur Produktsicherheit.
Immer am Puls der Messung
Die im Gerät integrierte und kontinuierlich arbeitende Geräteprüfung ermöglicht eine permanente Überprüfung der Durchfluss-Messgeräte direkt in der Rohrleitung. Alle Prüfungen mit Heartbeat Diagnose, Verifikation oder Monitoring werden auf den im Gerät hinterlegten unveränderlichen Werkszustand referenziert und automatisch gespeichert. Bis zu acht Prüfungen können nacheinander im Gerät hinterlegt werden.
Mit der Heartbeat Technology werden Diagnosedaten im Gerät verarbeitet und können zum Data-Mining bzw. zur Datenanalyse an einen Massendatenspeicher übertragen werden. Ein besonders erwähnenswertes Feature der Monitoringfunktion ist die Verarbeitung des HBSI (Heartbeat sensor integrity) Parameter: dieser ermöglicht erstmals konkrete Aussagen über den sogenannten Arbeitsvorrat des Gerätes in korrosiven, abrasiven-, oder belagsbildenden Anwendungen. Damit wird echte "predictive maintenance" möglich.
Keine Gerätedaten verlieren
Das HistoROM Datenspeicherkonzept sichert die Daten, bringt Transparenz im Messbetrieb und vermeidet die Neuparametrierung nach einem Komponententausch. HistoROM Backup ist der mit dem Gehäuse unverlierbar verbundene Datenspeicher.
Hier liegt jetzt neu auch die Firmware des Gerätes, die dafür sorgt, dass alle Komponenten und Ersatzteile immer auf die im Gerät aktuell hinterlegte Firmwareversion synchronisiert werden. Inkompatibilitäten werden dadurch vermieden. Dort sind auch die Werkseinstellungen gespeichert, um über einen Reset das Gerät schnell wieder in den Auslieferungszustand zu bringen.
Auf dem im Gerät befindlichen und steckbaren Transmitterspeicher HistoROM T-DAT werden alle Parametrierdaten direkt nach der Konfiguration automatisch abgelegt. Von dort kann die letzte Einstellung als Backup einfach geladen werden. Das vereinfacht die Wiederherstellung der letzten Einstellung bei der Durchführung von Änderungen.
Außerdem speichert der T-DAT alle relevanten Daten im laufenden Betrieb der Messstelle wie z.B. Summenzählerwerte, Schleppzeiger für Min- und Max-Werte. Die Daten der Messstelle können einfach und schnell auf ein Ersatzgerät durch Umstecken des T-DAT übertragen werden.
Vereinfachte Anwendung im Detail
Die neue Proline überzeugt auch im Detail mit kleinen und durchdachten Verbesserungen. Die Installation wird durch einen frontseitigen Zugang, steckbare Klemmen, eine absetzbare Anzeige und ein Weitbereichsnetzteil vereinfacht wird; dabei signalisieren vier Geräte-LEDs die wichtigsten Zustände. Konfigurierbare I/O-Module und vielfältige Kommunikationsschnittstellen machen die neuen Geräte in nahezu jede Anlagenkonstellation integrierbar.
Ein integrierter Webserver erleichtert die Inbetriebnahme, der Verbindungsaufbau ist auch drahtlos ganz einfach durch die Anmeldung am Endgerät mit Seriennummer und Gerätenamen, einem mobile Device und allen handelsüblichen Web-Browsern. Kommt es im Betrieb doch einmal zu Fehlern, werden diese nach NE107 kategorisiert und im Ereignis Logbuch gelistet. Fehler können so gezielt behoben und Anlagenstillstände vermieden werden.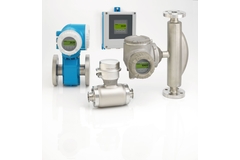 Proline 300/500: Durchfluss-Messtechnik bereit für die digitale Zukunft.
Receive the next press releases and news directly in your mailbox. Stay up to date by subscribing to the Endress+Hauser press list.