Stühlerücken bei Endress+Hauser

Wechsel an der Firmenspitze
Matthias Altendorf übernimmt als CEO zu Jahresbeginn die Leitung der Endress+Hauser Gruppe, Vorgänger Klaus Endress wird neuer Präsident des Verwaltungsrats.

Klaus Endress wird Präsident vom Verwaltungsrat
Nach 19 Jahren an der Spitze von Endress+Hauser räumt Klaus Endress in diesen Tagen sein Büro im schweizerischen Reinach. Der bisherige CEO wechselt zum 1. Januar 2014 in den Verwaltungsrat der Firmengruppe. Er löst dort Klaus Riemenschneider als Präsident ab, der nach 43 Jahren im Dienste des Unternehmens in den Ruhestand tritt.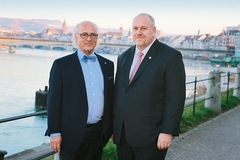 Matthias Altendorf wird neuer CEO der Firmengruppe
Neuer Chef der Firmengruppe wird Matthias Altendorf (46), bislang Geschäftsführer des Kompetenzzentrums für Füllstand- und Druckmesstechnik im süddeutschen Maulburg. Er ist in der mehr als 60-jährigen Unternehmensgeschichte erst der dritte CEO überhaupt – und der erste, der nicht der Gesellschafterfamilie angehört. Die Veränderungen in der Leitung der Firmengruppe hatte Endress+Hauser bereits im März angekündigt.
Downloads
Medienmitteilung

tthias Altendorf tritt zu Jahresbeginn als neuer CEO der Firmengruppe an, Klaus Endress wechselt in den Verwaltungsrat
Related offering
Inventory monitoring of liquids in Food & Beverage industry

Learn how Endress+Hauser inventory monitoring solutions help you manage stocks of raw materials or bulk end products at multiple sites

World-class LNG tank gauging for the Oil and Gas industry

Tank gauging and operational safety for LNG inventory management

Überprüfung der Durchflussmessstellen auf Kläranlagen

Wir unterstützt Sie gemäß EÜV/EigÜVO/EKVO/SüwVO nach DIN 19559. Profitieren Sie von unserem Produktportfolio, unserem Applikationswissen und Erfahrung als Hersteller über sämtliche messtechnische Fragestellungen auf Kläranlagen
Simple products

Easy to select, install and operate
Technical excellence
Simplicity
Standard products

Reliable, robust and low-maintenance
Technical excellence
Simplicity
High-end products

Highly functional and convenient
Technical excellence
Simplicity
Specialized products

Designed for demanding applications
Technical excellence
Simplicity
FLEX selections
Technical excellence
Simplicity

Fundamental selection

Meet your basic measurement needs

Technical excellence

Simplicity

Lean selection

Handle your core processes easily

Technical excellence

Simplicity

Extended selection

Optimize your processes with innovative technologies

Technical excellence

Simplicity

Xpert selection

Master your most challenging applications

Technical excellence

Simplicity
Success stories
Boiler water monitoring made easy

With the SWAS Compact Panel, the continuous monitoring of quality parameters such as pH and conductivity in cheese production can be automated and simplified.

The all-round carefree panel

Water Analysis Panels make continuous monitoring of drinking water easy at the water treatment plant in Frasnacht, Switzerland.
Die Produkthighlights für 2021


Die neue Highlights 2021 Broschüre enthält eine Übersicht unserer Neuprodukte, Dienstleistungen und Automatisierungslösungen für die Prozessautomatisierung