Successfully doubling the production capacity
Expertise and close collaboration lead to highly automated process at Remat Chemie
Endress+Hauser and Remat Chemie cooperated closely in 2008 to build a production plant for separating components from liquid chemicals. Due to successful growth, expansion was again necessary and a new plant was built with an 18-metre-high fractionating column. Endress+Hauser carried out the instrumentation and process control portion of this project. The new plant, which includes advanced instrumentation and communication technology, has more than doubled Remat Chemie's production capacity.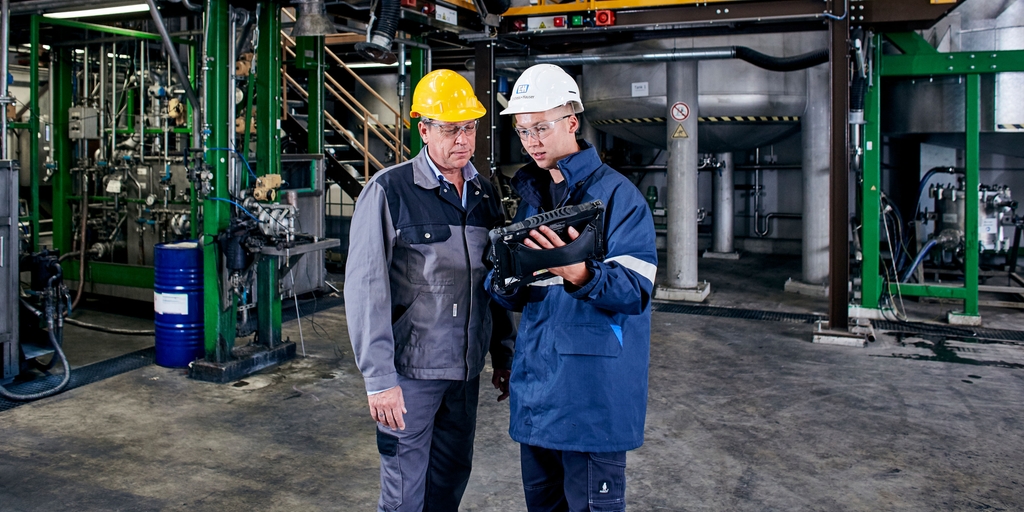 Benefits at a glance
Close collaboration during the engineering phase lead to system optimization and to savings of time and money.

Customized control software and process visualization perfectly meet Remat's requirements.

FieldCare solution gives precise information from the system via the PCs 24/7.

The instrumentation can be monitored remotely via a secure internet connection.

Endress+Hauser was the ideal partner in instrumentation, engineering and commissioning.
The challenges
Staff work in three shifts, where different settings are continually required to match the various types of production. The control systems, combined with extensive instrumentation, play a crucial role here. Therefore close cooperation between Remat Chemie and their partners would greatly help to the project's achievement.
In order to get as much process information as possible remotely, the instrumentation is connected to the control cabinets via PROFIBUS.
Our contribution
Remat Chemie commissioned Endress+Hauser to equip the facility with instrumentation and process control elements.
Endress+Hauser was involved in the engineering phase right from the design of the pipework and instrument process flow diagrams.

Endress+Hauser developed, installed and commissioned all the instrumentation and controls.

Control software and process visualization were adapted to Remat Chemie's needs: fractionation and the inventory management are now safely monitored on a screen.
Close collaboration from the very beginning
Due to the ATEX environment and to avoid planning errors, Endress+Hauser was brought in at an early stage during the design of the pipework and instrument process flow diagrams.
A clever zoning system was created. By placing as many control components in Zone 2 environments, extra expenses for additional ATEX facilities were minimized. In the end, Endress+Hauser spread the control systems over four cabinets, which also resulted in a better distribution of heat and savings in cabling.
Customized control software
The control program was written specifically for the new fractionating column. Endress+Hauser also produced the HMIs for the PLC panel and the two screens in the field for operating the ATEX zones. Level meters on the storage tanks indicate the filling ratio via an inventory management system. Furthermore, flow rates, pressures, temperatures, valve positions and pump operations, among other things, are visualised so the operators can judge at a glance whether the processes are running properly.
Installation and commissioning
All instruments were wired using Profibus and connected through Fieldcare in order to facilitate the remote retrieval of device information. "Via a secure internet connection, Endress+Hauser was virtually able to look over our shoulders, which was especially useful in the initial phase," explains Mark van Aerle, Operations Manager.