Ecograph T RSG35

Erfassen, visualisieren und überwachen zum kleinen Preis
Publication date: 31.01.2014
Papierloser Bildschirmschreiber
Der neue Bildschirmschreiber Ecograph T RSG35 ist in vielen Branchen einsetzbar:
Qualität- und Mengenüberwachung in der Wasser- und Abwasserindustrie

Überwachung der Prozesse in Kraftwerken

Anzeigen und registrieren von kritischen Prozessparametern

Tank- und Füllstandsüberwachung

Temperaturüberwachung in der Metallverarbeitung
Intuitive Bedienung und einfache Systemintegration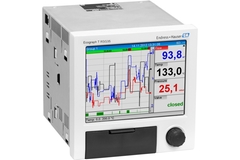 Mit Hilfe des integrierten Webservers sind die Fernparametrierung und die Visualisierung der aktuellen und aufgezeichneten Daten unkompliziert und ohne zusätzliche Software-Installation möglich. Durch seine Vielzahl an modernen Kommunikationsmöglichkeiten erlaubt der Ecograph T RSG35 eine einfache Systemanbindung:
Ethernet TCP/IP, RS485/232 optional

Modbus RTU/TCP Slave optional

E-Mail Benachrichtigung
Downloads
Ecograph T RSG35 Universal Data Manager

Erfassen, visualisieren und überwachen. Sichere und lückenlose Aufzeichnung und Visualisierung aller Prozessabläufe
Receive the next press releases and news directly in your mailbox. Stay up to date by subscribing to the Endress+Hauser press list.