Proline Promag 200

Magnetisch-induktive Durchflussmessung in effizienter Zweileitertechnik für die Chemie
Promag 200 ist das erste magnetisch-induktive Durchflussmessgerät, das nahtlos und flexibel in Prozessleitsysteme integriert werden kann. Die im Standard verfügbaren Kommunikationsvarianten HART, PROFIBUS PA und FOUNDATION™ fieldbus erhöhen die Flexibilität bei jeder Messstellenauslegung.

Benefits
Breitbandig einsetzbar – zuverlässiges Messen aller leitfähiger Flüssigkeiten (≥20 μS/cm) wie Wasser, Säuren, Laugen, Lösungsmittel oder Pasten

Effiziente Zweileitertechnik (4–20 mA) – hohe Messleistung in Standardanwendungen wie bei Vierleitergeräten

Industrieoptimiertes Durchflussmessgerät – erfüllt alle relevanten Anforderungen der chemischen Industrie wie SIL, Ex-Zulassungen oder Diagnose nach NE107

Nahtlose Systemintegration – kostensparende Installation und maximale Sicherheit im Messbetrieb
Attraktive Zweileiter-Technik mit vielen Vorteilen
Optimiert für die chemische Industrie, verfügt die Zweileiter-Technik über mehrere Vorteile gegenüber Vierleiter-Geräten: Die Installationskosten sind geringer und die Geräte lassen sich einfacher in die vorhandene Infrastruktur integrieren. Die Installation entspricht der gängigen Praxis. Das eigensichere ATEX-Konzept erlaubt erweiterte Einsatzbereiche und mehr Flexibilität im Ex-Bereich.
Rufen Sie uns an und lassen Sie sich beraten. Unter der kostenlosen Telefonnummer 0800 EHVERTRIEB oder 0800 3 48 37 87 sind wir für Sie zu erreichen.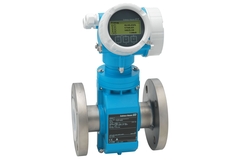 Nahtlos und flexibel einsetzbar
Nach IEC 61508 entwickelt für den Einsatz in SIL2/3 Schutzeinrichtungen

Alle leitfähige Flüssigkeiten wie Wasser, Säuren, Laugen mit einer

Mindestleitfähigkeit von >20 μS

Nennweiten: H-Sensor: DN 2...25; P-Sensor: DN 25...200

Prozesstemperaturen -40...150 °C

Prozessdrücke bis PN 40

Auskleidungswerkstoffe: PFA, PTFE

Elektroden: Edelstahl, Alloy, Tantal

Versorgung: über 4...20 mA (18...36 V)

Kommunikation: HART, PROFIBUS PA,FOUNDATION™ fieldbus
In the spotlight
Proline Promag P 200
electromagnetic flowmeter

The flowmeter for highest medium temperatures with genuine loop-powered technology. Dedicated to chemical and process applications with corrosive liquids and high medium temperatures.
Simple products

Easy to select, install and operate
Technical excellence
Simplicity
Standard products

Reliable, robust and low-maintenance
Technical excellence
Simplicity
High-end products

Highly functional and convenient
Technical excellence
Simplicity
Specialized products

Designed for demanding applications
Technical excellence
Simplicity
FLEX selections
Technical excellence
Simplicity

Fundamental selection

Meet your basic measurement needs

Technical excellence

Simplicity

Lean selection

Handle your core processes easily

Technical excellence

Simplicity

Extended selection

Optimize your processes with innovative technologies

Technical excellence

Simplicity

Xpert selection

Master your most challenging applications

Technical excellence

Simplicity
Downloads
Magnetisch-induktive Durchflussmessung in effizienter Zweileitertechnik für die Chemie – Für höchste Betriebssicherheit rund um die Uhr

Die Zukunft hat ein Gesicht

Erstes einheitliches Zweileiter-Konzept für Durchfluss und Füllstand - erhöht die Sicherheit und senkt die Kosten