Deltabar FMD71/FMD72
Elektronische Differenzdruckmesssysteme - Zuverlässig, sicher und kosteneffizient
Der Deltabar FMD71 (Keramikmembran) und FMD72 (Metallmembran) dienen zur Füllstandsmessung von Flüssigkeiten in druckbeaufschlagten Behältern. Die neuen Messsysteme lösen Probleme herkömmlicher mechanischer Systeme. Durch den Wegfall von Wirkdruckleitungen oder ölbefüllten Kapillaren können Messfehler durch Umgebungstemperaturschwankungen, Verstopfung oder Kondensat ausgeschlossen werden. Der Montageaufwand ist auf ein Minimum begrenzt.

Benefits
Hohe Anlagenverfügbarkeit durch Verzicht auf Kapillare. Minimierung von Temperatureinflüssen durch Sonneneinstrahlung und Prozesstemperaturänderungen

Hohe Prozesssicherheit. Kein Verstopfen und keine Kondensatbildung in Wirkdruckleitungen und ständige Überwachung des gesamten Systems über HART®-Diagnose

Erweiterter Anwendungsbereich. Montage unabhängig von der Behältergeometrie, Stutzen-abstand für den Anbau der Sensoren bis 30m


Einfache und schnelle Inbetriebnahme vor Ort über die bewährte Klartextbedienung oder über HART®-Protokoll spart Zeit und reduziert die Kosten

Unabhängig von Schaum, Turbulenzen, Behältergeometrie, Einbauten oder Dielektrizitätszahl.

Geringer Einfluss durch Prozess- und Umgebungstemperaturänderungen.

Einfache Projektierung und Montage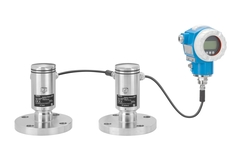 Elektronisches Differenzdrucksystem für Füllstandsmessungen
Referenzgenauigkeit: Einzelsensor ±0,075 %, System ±0,1 %
Optionen: Einzelsensor ±0,05 %, System ±0,07 %
Messbereich: 0,1...45 m, 400 mbar...10 bar
Prozesstemperatur:FMD71: -25...+150 °C, FMD72: -40...+125 °C

Applikationsgrenzen:
Prozesstemperaturen >150 °C auf Anfrage
Verhältnis Füllstand zu Kopfdruck >1:6
Dichteänderungen aufgrund wechselnder Medien
Related offering

Simple products

Easy to select, install and operate
Technical excellence
Simplicity
Standard products

Reliable, robust and low-maintenance
Technical excellence
Simplicity
High-end products

Highly functional and convenient
Technical excellence
Simplicity
Specialized products

Designed for demanding applications
Technical excellence
Simplicity
FLEX selections
Technical excellence
Simplicity

Fundamental selection

Meet your basic measurement needs

Technical excellence

Simplicity

Lean selection

Handle your core processes easily

Technical excellence

Simplicity

Extended selection

Optimize your processes with innovative technologies

Technical excellence

Simplicity

Xpert selection

Master your most challenging applications

Technical excellence

Simplicity
Success stories

Sichere Trübungsmessung im Prozess- und Trinkwasser

Die Trübung ist der wichtigste kontinuierlich gemessene Qualitätsparameter in der Wasseraufbereitung. Mit Memosens-Technologie und hygienischem Design liefert der Turbimax CUS52D verlässliche Laborpräzision in allen Lagen.

Bei Kondenswasser cool bleiben

2012: Robust und sicher auch unter dem Taupunkt. Nach Langzeittests des keramischen Drucksensors Cerbar M im Herstellerwerk wurden unter anderem die Kondensattauglichkeit beim DMK Deutsches Milchkontor GmbH geprüft.